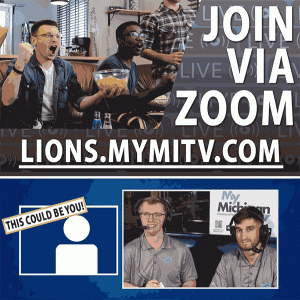 Join in game-days this fall and winter for the "Detroit Lions Fan Show" on My Michigan TV. Discuss and give predictions before the game on the pre-game show and then review what happened post game!
This is a different kind of show where Lions fans can join in on the fun via Zoom at My Michigan TV. The Detroit Lions Fan Show takes place live at the Detroit Sports Bar and Grill on Woodward Avenue with where viewers just like you are the experts. Join use in person or participate at lions.mymitv.com.
These programs and more are presented live and on demand. It's easy to watch My Michigan TV on the Web or by installing the My Michigan TV app on your smart TV or mobile Device.
My Michigan TV is a Michigan focused live and on-demand video service that includes talk shows, news, travel, food, history and original films, series and live events. Enjoy 24/7 live programming including some of the state's top entertainment and cultural experts and hot-spots.
Install the My Michigan TV App on your device. For more information click on the links below.
iPhone android Roku Apple TV FireTV Samsung Smart TV android TV
My Michigan TV is a production of Michigan Digital the go to in quality web development agency and event technology provider based in Troy, Michigan. Offering quality web production hosting and maintenance. Michigan Digital is also Michigan's leading live and virtual event technology provider, offering live video conferences and end to end live video streaming