Check out the innovative Flotation Docking Systems: A Closer Look at Michigan Digital's User-Friendly Website Design
Our team at Michigan Digital is happy to highlight a great service that showcases xceptional expertise in giving you a fantastic product.
What are Flotation Docking Systems?

A flotation docking system, also known as a floating dock or flotation platform, is a structure designed to provide buoyancy and support for various applications on water. Unlike traditional fixed docks, which are permanently attached to the shore or seabed, flotation docking systems are floating structures that rise and fall with the water level.
These systems typically consist of a framework or platform supported by buoyant materials such as plastic foam, air-filled chambers, or other materials with high buoyancy. The buoyant elements keep the dock afloat, allowing it to move vertically with changes in water level while remaining stable.
Floatation docking systems have several applications, including:
Boat Docks: These floating platforms are commonly used as docks for boats and other watercraft. They provide a stable surface for boarding and disembarking and can accommodate changes in water level.
Marinas: Floating docks are often used in marinas to provide a stable and accessible platform for mooring boats. They can be modular, making it easier to reconfigure the marina layout as needed.
Aquaculture: In aquaculture operations, flotation docking systems can be used as platforms for fish farming, allowing easy access to the water for feeding, monitoring, and harvesting.
Recreational Areas: Floating docks are used in recreational areas for swimming, sunbathing, and other water-based activities. They can be anchored in lakes, rivers, or coastal areas.
Emergency Response: In disaster situations or emergencies, floatation docking systems can be deployed to provide temporary platforms for rescue operations, medical assistance, or other relief efforts.
The choice of materials and design may vary based on the specific application and environmental conditions. These systems are often preferred in locations where water levels fluctuate, as they can adapt to changes and reduce the risk of damage during high water or storm events.
Flotation Docking Systems specialize in floating docks, fishing piers, wave attenuators, gangways and custom structures.
Michigan Digital Helped Create the Flotation Docking Website!
At Michigan Digital, we take pride in designing websites that showcase our clients' exceptional product. We were thrilled to work with Flotation Docking, a company that specializes in floating docks and structures. Our team's goal was to create a user-friendly website showcases a product especially useful in and around the Great Lakes
Our website design is specifically tailored to showcase what Flotation Docking is all about. Our team made sure that the website was aesthetically pleasing and accessible to customers of all ages and backgrounds.
User-Friendly Design
Michigan Digital understands the importance of creating a user-friendly website. We incorporated features such as easy navigation, clear menus, and informative content to ensure that customers can interact easily with the website. We also made sure that the website was optimized for both desktop and mobile devices, making it accessible to customers on-the-go.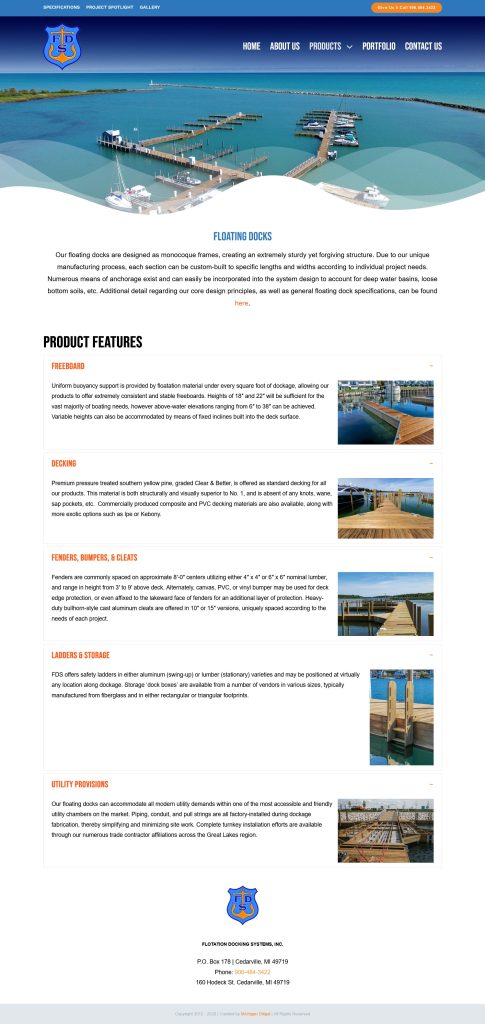 What We Do at Michigan digital
At Michigan digital, we specialize in SEO website design that helps our clients stand out online. Our team of experts work closely with clients to create stunning and functional websites that reflect their brand and cater to their target audience. With a focus on user experience and search engine optimization, we ensure that our clients' websites are not only aesthetically pleasing, but also rank high in search engine results.
In addition to website design, we also offer WordPress development that allows clients to easily manage their customer information and streamline their online presence. Our team is dedicated to providing personalized and comprehensive digital solutions that drive results for our clients.
Contact us today to learn more about our services and how we can help your business stand out online.