Michigan Digital– 06-June-2022 – The Indian River Michigan Tourist Bureau, representing the people and businesses of Indian River Michigan, recently announced the launch of its new website with updated lodging information as well as area events.
Indian River Michigan is a small community in the heart of the northern, lower peninsula of Michigan. It is located on what is called the inland waterway where the Sturgeon River flows into Burt Lake and where Indian River flows out of Burt Lake and into Mullett Lake. There are fantastic destinations within a half an hour of Indian River including Petoskey, Harbor Springs, Mackinaw City and Mackianc Island.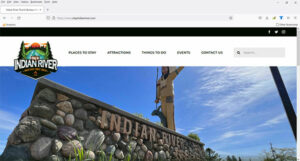 Stayindianriver.com is a one-stop destination for all information in the Indian River Michigan area. From water sports to fishing, from paddling to skiing get to know the community and you will find something perfect for your northern Michigan visit.
The newly launched website features updated lodging descriptions and details and new images of the area. . Customers searching for a great family friendly and affordable vacation can find great information on the new website.
Michigan Digital is proud to partner with the Indian River Michigan Tourist Bureau to further show off the diversity of great destinations in Michigan. For more information, visit https://www.stayindianriver.com.